Don helps individuals discover their true potential for success
Meetings | Conventions | Workshops | Seminars

Individual's, executives, small business owners, women business entrepreneurs, supplier diversity organizations, non-profits, educators and Inspiring leaders.
Don Martinez, Master Certified Coach and Master NLP/ Practitioner.
The Accelerated Conditioning ™ Method 
Is noted for his style of build and sustaining more clarity bringing out more vision and uncover a strategic path to success. Often CEO's, and Leaders find themselves stuck, and under much pressure.
Coach Don Martinez helps his clients break out of these obstacles that hold them back.
One on-one C-Level Executive Suite Coaching
For today's and tomorrow's leaders
C-Level Suite Coaching covers:
Leadership Performance Career/Business Transition & Management Development
(Program duration 6-12 mo.)
Don has been recognized for his work Coaching C-Level Suite Executives.
Domar's Accelerated Conditioning ™ program is designed to take CEO's, Business Leaders, Board of Directors and High achievers to the next level
Our methodology helps leaders bring about a new process for renewing personal and professional leadership, Enhance decision making and reducing failure and poor outcomes.
Typically Don Martinez requires executives to commit to 12 months of one on one coaching.
Domar Coaching Academy is a unique coaching model combine on the science of and practice of Nero Linguistic Program and Accelerated Conditioning ™
Executive and leaders looking to build a personal impact plan with more clarity and purpose.
Accelerated Conditioning™ is a strategic vision and powerful model driven to build and adopting a core structure and style of sustainable leadership for executives and leaders that loss focus, passion and drive. Leaders looking to take their game to the next level will find is process challenging yet constructive to help they measure the necessary process to adopted and analyze themselves and their vision.

Don and his team of coaches can help you maximize your leadership investment by:
Our executive coaching with accelerated conditioning is your key for executives and leaders
Transform your managers and professionals into leaders with clarity and focus
Invest in high profile employee's that are under-performers by working one-on-one with Domar
Let Domar Identify assess and develop potential talent in your organization (succession planning)
We use are method of Coaching and sophisticated assessment tools to evaluate everyone identifying a clear starting point. With years of experience in helping people change the directions in their personal and professional lives we help show our coachee's measurable results and significant change.
 
We take the time and commitment to deliver real results!
 
If you are a CEO, Board of Director, executive thinking of taking your game to the next level than contact Don Martinez to get started.
Email: dmartin@domargroup.com
Phone: (714) 674-0391
Website: http://www.domargroup.com/speaking_coaching.html
"Helping Leaders to become Winners"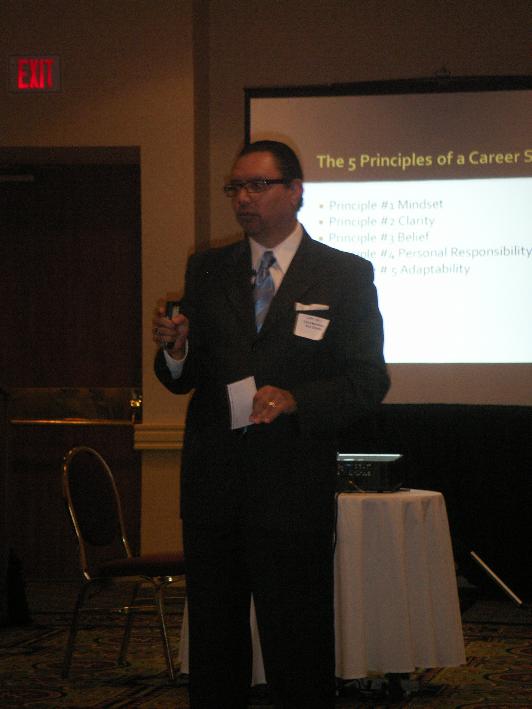 Career Assessment
Career Assessments— On-line assessment tests that can help you discover how to bring purpose, passion,
or wellness into your career.
Resume Writing
Resume Writing/Editing Service—Update your resume or get a new one. Advice is included.
Group Coaching Mentorship
Career Member-Only Coaching Group—Are you an accomplished professional who is currently experiencing turmoil in your career?
Are you in a state of shock because you never thought you would be out of work?
This group is for Career Mastermind Jump Start your career professional network.
Principles of a Career Search (Based on the Book Principles of a career search by Don Martinez)
Make starting your new career less stressful and more rewarding:
• Determining your Skills, Talents, and Abilities
• Planning your Career and Setting Goals
• Researching New Career Fields
• Job Interviewing
• Salary Negotiations
• Developing your Network
• Job Search Strategies and Tools
• How to Conduct an On-Line Job Search Campaign
• Researching Prospective Employers
• Locating the 'Hidden Job Market'
For more information on Don speaking event or seminars please email us for details dmartin@domargroup.com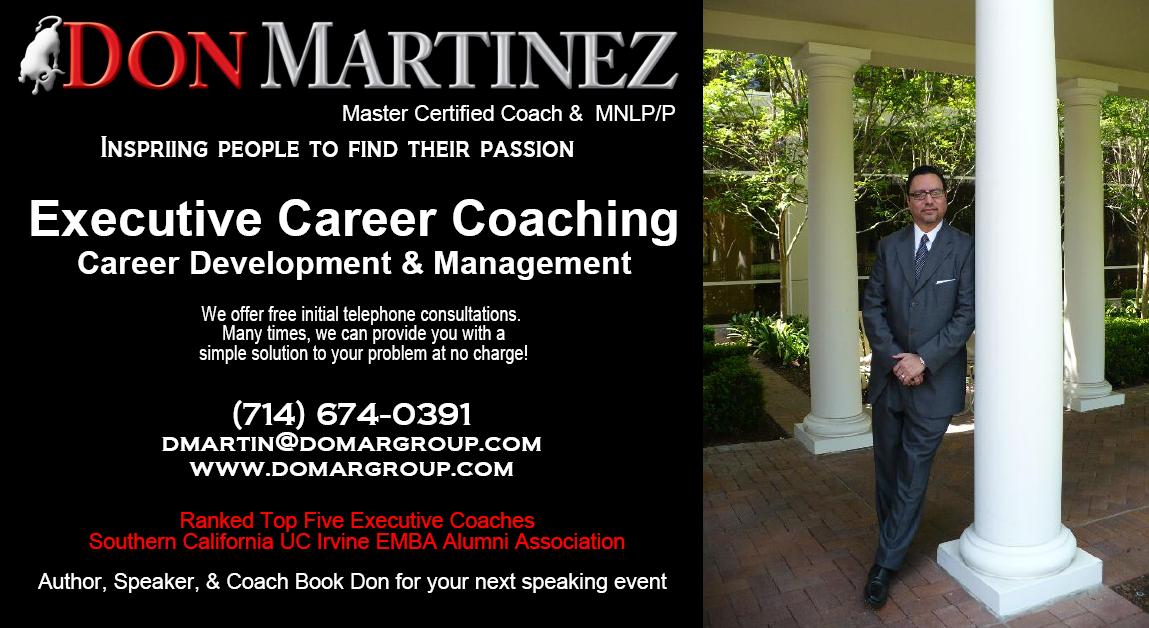 Dear Friends,
I'm both honored and happy to share some of my client testimonials with everyone.
Over the years more and more people are beginning to see the value of having a personal coach.
I for one am honored to have helped my clients discover the serects that live inside them, to streach them pull them
and challenge them to find their purpose and passion.
If you are someone that is stuck and can not seem to get clear or focused in your life.
I will help you discover what is holding you back. Are you worth the investment, do you ask ourselve,
why not you? then stop thinking and do something. If not with me find someone that can help you move forward.
All the best
Don Martinez MCC, MNLP/P, PMP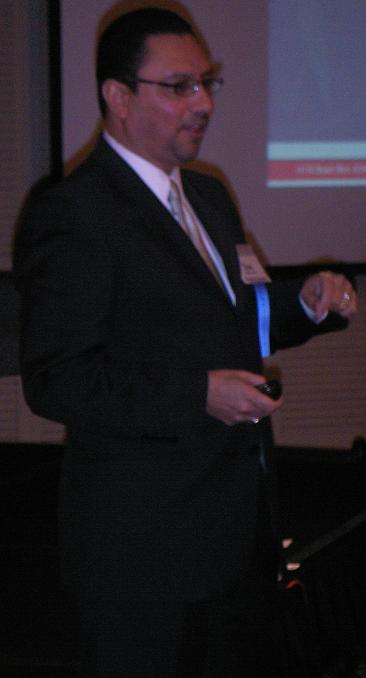 Client Testimonials
Susan Orosco (Hannon)
"I highly recommend Don Martinez in both his coaching business and his motivational speaking and writing abilities.
Don is an energetic Public Speaker and motivational writer. He is amazingly knowledgeable of the human spirit. It shows in his ability to motivate an individual, and it shines thoroughly throughout his volunteer work.
There is a huge amount to give within this man and it seems there is no end to his ability to motivate, inspire,
and build. If you need the guidance of a professional to help fulfill your goals this man can point you in
the right direction every time.
Danielle West
Corporate Account Manager, Clean Harbors Environmental Services (business partner)
"Don Martinez was recommended by a mutual friend, who was advising me on next steps in my career.
Simply put, Don was critical in my quest for stepping out into a new industry.
Although I had many obstacles in front of me, Don provided advice that I believe changed my outlook on the opportunity.
For some time I had been focusing on the obstacles.
Don recommended a vision. I didn't know how powerful visions were until this one came true shortly after doing this exercise.
I imagined my name and number on the new company's business card. Sounds simplistic but was very powerful.
Since I believed in the opportunity, others who were putting up obstacles started to believe.
Don has taught me not to diminish the power in positive thinking.
Turn to Don if you are struggling with a goal or a dream....you would be surprised!"
Andrew Morales-Miramontes, MBA (Pepperdine Alumni)
Marketing, Multicultural & U.S. Hispanic Market Professional Vision Essentials by Kaiser Permanente
Don has been a true asset for me while I begin my new career endeavor after obtains my MBA from Pepperdine University.
He has my best interest in the forefront when he is helping get my ideal next career move!
I would definitely recommend him to anyone looking for their dream job!"
Leo Costantino CPCU, ARM MBA Chief Risk Officer
My coaching experience with Don Martinez was transformational – it started as a purely career-related exercise,
and evolved into a relationship that provided me with meaningful personal, as well as professional, reflection.
Don is a skilled communicator; he listens well and creates a comfortable dialogue for sharing ideas.
Don's coaching style is multi-dimensional; he believes that the most successful professionals are also successful in their personal lives. Don and I explored these dimensions together – he guided me in identifying goals in both my public and private lives,
and provided me with the tools and coaching for achieving them.
Coaching is not merely Don's job, it is his life, and it is evident from his actions and deeds:
his deep level of commitment to his clients, his openness in sharing relevant parts of his personal history, and his devotion to community projects focused on children and minorities.
Don Martinez is the embodiment of his coaching philosophy:
a successful individual who constantly strives to be the very best in his personal and professional lives,
who shares of himself and who is of service at every step of the way.
Judi Jordan Writer, Director, Producer
Mojo Content

What an amazing shift I experienced after our first one-on-one 'make-a-miracle-happen' coaching session!

I had been feeling 'stuck' in my old ways, and borderline depressed about life in general.
After the two hours of your positive personal reinforcement, the teaching of intuitive interaction and the clarifying career counseling,
I saw the benefits immediately.

I went to a business reception where I was radiating good energy, and witnessed tremendous support and
that 'magnetic attraction' with new contacts that enables more meaningful, goal-focused communication.

My personal energy felt changed, as if a burden or barrier had lifted.
The 'intuitive interaction' or 'star search' test is a great tool for cutting through the confusion of huge business
gatherings, honing your instincts and making the 'right' connections.

As someone who is dependent on networking as a key part of my process as a producer, this is invaluable.
I am looking forward to our next session to reinforce the principles and continue to build on this amazingly positive foundation.

I highly recommend you as a coach for achieving accelerated personal and professional success.


Ana Luisa Mota
, Vice President Business Relations, Cilantro Animation Studios (business partner)
"I've known Don Martinez some time now, and I have been consistently impressed with his ability to craft
his own path in the world, whether it be professionally, personally, or as a career coach.
Don is a man of action, an incredible achiever, and a person that sets goals and goes after them.
His mantra is to give back and to encourage others to become strong individuals and performers in
their lives and their careers. He is truly an inspiration, and an example of what can be achieved with a
strong dose of passion and the desire to push the boundaries for what we think is possible!"