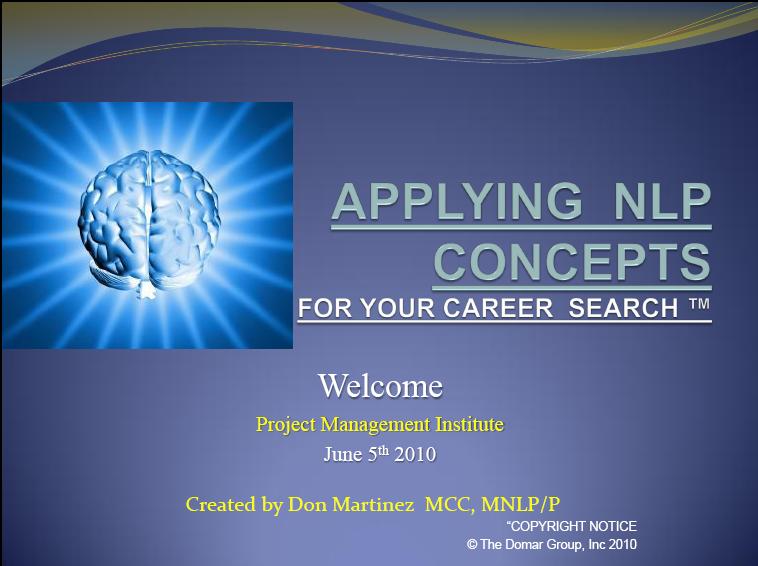 Sat., June 5, 2010
8:00 am - 12:00 pm
Speaker: Don Martinez MCC, MNLP
Keller Graduate School of Management / DeVry University (Long Beach Center)
3880 Kilroy Airport Way, Room 224
Long Beach, CA 90806
Description:
For more information contact Alexandra Villanueva at: avillanueva@domargroup.com
or call 714-674-0391

Speakers: Daniel Vicario and Dennis Varnum
Career Principles and Applied Methods Of "Neuro-Linguistic Programming"
PMI-OC is proud to present Daniel Vicario and Dennis Varnum will be speaking on Neuro-Linguistic Programming. They will discuss how organizational change can be brought about using the model of interpersonal communication chiefly concerned with the relationship between successful patterns of behaviour and the subjective experiences underlying them. They will explore how neuro-lingustic re-programming can help people become self-aware, learn effective communication styles, and change their patterns of mental and emotional behaviour.
Presentation topics will include:

Principles for Success
The Unconscious Mind
Presuppositions of NLP
The NLP Communication Model
Sensory Acuity; Calibration ~ Observing other people
Rapport and representational systems
Representational system profiling
Attendees will work individually and in teams to perform exercises designed to measure and then manage constraints in the areas of:

Learn their Representation Profile
How to build rapport utilizing Calibration, Pacing & Leading
In Brand Promotional activities
Making formal presentations to sell, Communication, Interviewing styles and your 30 Second Pitch
Direct face-to-face selling
Client interviews to get information
Selection interviews for hiring
Making survey calls to generate interest
Letters, memos, or conversations to influence
Direct mail or brochures to create interest
In phone solicitation or telemarketing
Handouts to help keep a prospect interested 

 
If you missed one of our workshops, Tele-Classes or Seminars you can now listen to a recorded sessions.
Here is your second chance. The virtual seminars listed below are available at anytime, right when you need them.
Take advantage of these valuable career development instruction facilitated by Coach Don Martinez all with just a click away!
Contact Alexandra at avillanueva@domargroup.com

In today's market there are a high number of people that are not leaving their careers to chance.
Let's face it more and more people have been affected by the loss of a job not because they were not qualified
it was because they left their careers loyalty and commitment thinking that the company was going to take care of them.
Well the realty is as one client stated I was wrong. Coach Don Martinez brings more than 25 years
of experience in the area of career development. Below are programs that can give you the edge to lead a winning career.
Programs and Products:
Professional Coaching & Home Study Course
Don Martinez Home Study Coaching Program:
Think you have what it takes to be a Professional Coach. Don Martinez has developed a home study coaching program
that is perfect for Executives, Managers supervisors and Individuals that are seeking to add to their tools
of Leadership and personal development within their organization.
Learn the tools and techniques to help you and your team archive personal excellence.
 
Interviewing with Power Seminars
Interviewing with Power ® with Don Martinez
This high impact seminar focuses on helping individuals take control of their net career leading them to gaining control
and receiving success in your next Interview. Most people keep doing what they are doing creating the same results
only to learn this is not good enough. Don't leave your career to chance.
A high number of Dons Coaching Clients will tell you that my program is a must attend,
For the first time you can be one of the top 10 percent of individuals that made the decision to invest in your career.
We know that the job market is tight and competition is high.

Cost of Seminar $179.00
Audio, CD & Workbook Program $295.00
Listen to a free Audio:  http://affiliate.kickapps.com/_Interviewing-With-Power-With-Don-Martinez-/audio/649749/74885.html
The Difference between opportunity and Career Success

Don Martinez a Career Expert is presenting an Interactive Interviewing Training called Interviewing with power,
a workshop that empowers professionals, at all levels, with the skills to present dynamic and impactful interviews,
designed to leave a great impression and to influence decision makers.
Attend this workshop and learn some of the top strategies in gaining a winning advantage of finding new career.
Interviewing with Power helps professionals with the following benefits:
• Preparing for your interview
• Boosting your confidence
• Making a great first impression
• Managing the interview Vs. The Interview managing you
• Maximizing your success rate gain more offers
 
Mastering the Art Communication
Mastering the Art of Communication, Top Universities such as the University of Irvine Executive MBA Alumni Association,
Pepperdine University, California State University Los Angeles and The University of Redlands have recognized the value of strong communications skills.
Don Martinez teaches the fundamentals and technique of becoming a masterful communicator.
No matter if you are a recent college Graduate, MBA, Professional or executive communication is vital in business and in your career.
"Mastering the Art of Communication" program we examine the fundamentals of clear and result driven communication.
We explore your perceptions of your current mode of communication.

Then we validate our findings against best practice bench marks, gaining insight into how others relate
to these perceptions, and vice versa.. You identify your most effective strategies to immediately improve
outcomes through positive verbal and non-verbal communication.

You gain the power to get more results, more exactly, more of the time.
You will be more effective.
LEARNING OBJECTIVES
You will have a better understanding of your appearance in the eyes and ears of your colleagues.
You will have learned how to clearly convey your messages, intentions and wishes.
You will have a clear picture of how to ensure better understanding of others.
Result: Better team and individual performances through the following drivers:
• Knowledge of basic communication
• Better insight of the basics of clear and result driven communication
• Ask the right question at the right moment
• Be responsible for your actions with a clear rapport with your environment
• Recognize, then deal with yours' and other peoples' emotions
• Make clear agreements with an appreciation of the point of view of others.
 
Live Seminars Cost $179.00
Audio, CD & Workbook Program $295.00
Book: $25.00
Pillars of NLP Certification

Dear Friend,
Are you ready to get an insider's look into the most profound techniques for personal achievement ever created?
Right now countless people are achieving success beyond their wildest dreams because
they are able to capitalize on the opportunities around them. But that is not the case for many people.
For many, the constant "doom and gloom" of the media hypnotizes them into believing there is no hope for
personal growth and let's face it- there are some pretty big obstacles out in the world right now.

ATTENTION: If you are ready to reach your full potential and harness the power of Neuro-Linguistic Programming,
then this will be the most important letter you ever.

"Now you can master the most powerful mind-enhancing technology ever created to accomplish remarkable goals,
attract vibrant relationships & create a storm of loyal customers... faster and easier than you ever thought possible"
thousands of happy customers have paid upwards of $4,000 to learn these incredible NLP Techniques and now you
can get the same high-quality training offered by Don Martinez.

Download Podcast of Basic NLP Pillars Program
TeleClass: $59.00
Call for details:
Program Fee
The program fee is $2895.00.
Four Day NLP Practitioners Program
This NLP Certification Training you will gain tools to produce rapid and lasting change in both your personal
and professional life. Learn to build rapport, mediate and negotiate with anyone, and acquire the skills to
greatly improve all your relationships. ( Send or call for Details) 
 
To learn more please email us for details we are currently accepting new members.
Note: Please keep in mind this is a yearly program its limited to 20 individuals that seek to make a change in their life.
Facilitator and Master NLP Practitioner and Executive Coach Don Martinez takes you through the foundation
to help you change your life and financial future. Everyone desires success, while searching for life's purpose.
What you will learn in this interactive group session are setting short and long term goals that will change your life.